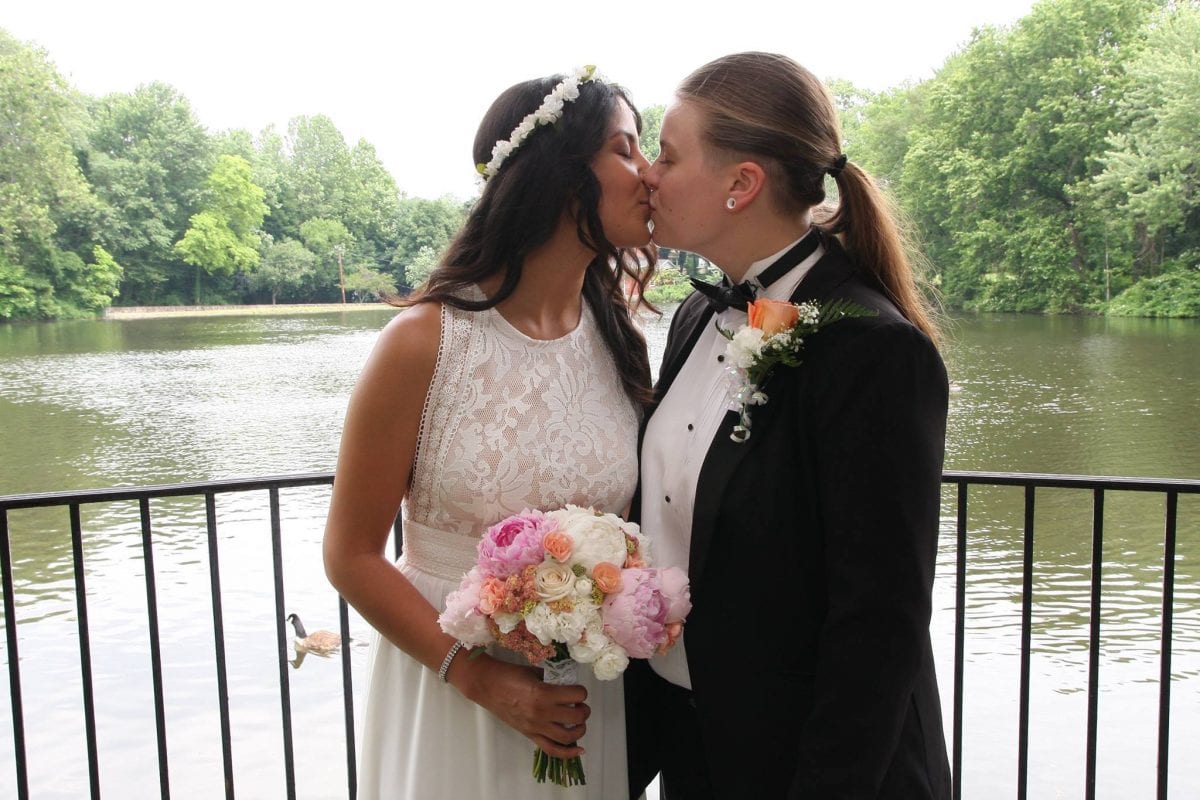 As the proud owner of Lamar Wedding Center and someone who has been actively involved in the LGBT community for years and married both straight and gay couples, I can say there are more similarities than differences between straight weddings and gay weddings. When a couple is planning a wedding, the "love in the air" is palpable. It really doesn't matter if they are gay or straight. It is a union of hearts.
From the marriage proposal to walking down the aisle to the wedding vows, most of our wedding rituals are based on the one bride/one groom paradigm. When there are two brides or two grooms, the traditional rules no longer apply. When two men get married, they are both grooms and when two women get married, they are both brides – even if one of them is wearing a tuxedo. Same sex couples need be a little more creative, but they also have more freedom, as they are unencumbered by restrictive and outdated "bride" and "groom" roles.
The Proposal
In a hetero relationship, the woman may drop broad hints or even issue ultimatums, but almost always, it is the man who proposes. In a same-sex relationship, anyone can propose. It can be an event that both have planned for with matching engagement rings or a surprise where one pops the question and the other (hopefully!) accepts. For a lesbian couple, the one who is proposing may ask the father of the bride for his blessing. For a male couple, the one who is proposing may get down on one knee. The one who is proposing may offer a diamond ring or a simple gold band and if accepted, may want a ring and even a proposal of his or her own – or not! It's really completely up to the couple.
Planning a Gay Wedding on a Budget
When a couple decides to get married, they should sit down together and work out a realistic budget. If they insist on having designer wedding gowns and a sit down dinner reception with a full service bar and a seven-piece band, they are going to pay top dollar. But there are many simple ways to cut down on expenses. Buffet style costs less than a sit-down dinner, a DJ costs less than a band, and a couple can save several hundred dollars by having a cash bar or cutting out hard liquor. There are also many beautiful gowns available off-season or on clearance that are almost identical to expensive designer brands for a fraction of the cost.
If a couple needs to cut corners, consider being more frugal with the wedding cake, flowers, limos, invitations and the tuxedo. All of these things are used for eight hours and then they're gone. The big question is: What will we have to remember our wedding day when the wedding is over? A good photographer and videographer can help a couple remember and relive their special day for many years to come. That's an investment worth making.
Another way many couples save money and cut down on stress is by going to a wedding center. When a couple goes to several different places for their wedding day services, there is a greater opportunity for miscommunication between vendors and for things to go wrong. A one-stop wedding center enables the owner to control the quality and reliability of each vendor and save couples money. That's not to say all wedding centers are alike. Some places call themselves "wedding centers" but they are actually many separate vendors represented under one roof. When a couple leaves their establishment, they'll leave with nine different contracts. These vendors are essentially splitting the rent. A true wedding center is a place where a couple will get one contract for all wedding services. Make sure to see their work and ask about contingency plans for covering staff. Feel free to shop around and compare. You don't want to break the bank, but you also don't want to sacrifice quality service for cost on this important day.
Finding LGBT Friendly Vendors
Now that same sex marriage is legal in many states, certain vendors will be looking to profit from it. You may notice some ads that read: "LGBT owned and operated" or "LGBT friendly" when all they want is the extra business. Be sure that your vendor is being truthful and has experience serving the gay community. Ask for recommendations from friends and proof by way of things like photos and videos of other gay weddings the vendor has done. You may try to notice if the vendor has a database that includes more options than simply "bride" and "groom." You can also find reviews of the vendor online.
When interviewing officiants to perform the ceremony, couples should look for one who asks questions to find out what is unique and special about them as individuals and their relationship. They may ask a couple if they want certain family members to take part in the service. If they each have children, an officiant may ask if they want a marriage of families rather than just two individuals. There are also a number of rituals a couple can incorporate into their ceremony to give it that personal touch. Lighting a unity candle, doing a sand ritual or a love lock can bring the ceremony to an intimate and meaningful place.
Family Matters
No bride or groom should feel obligated to invite anyone to their wedding that is not supportive of their love and commitment. We all know someone who still sees gay marriage as somehow wrong or unnatural. But what if that person is the bride or groom's own mother or father? If they don't already know you're gay or haven't met your fiancé – it's time to tell them – NOW. If you're thinking a wedding invitation is a good way to break the news… it's not! Even an otherwise open and supportive parent would be angry and hurt – not because you are gay, but because you never told them. Although some may view their wedding as a good "learning" experience for their parent, their bad behavior can ruin your special day. My advice is to sit down and talk with them, far in advance of the wedding. Voice your concerns and tell them you want them to be a part of your special day, but only if they can accept your sexual orientation and your partner and be happy for you. If they can't come around, it's better to leave them out. Anyone who cannot open their hearts and be supportive of you and your partner, can read about your wedding in the paper the next day.
Who Wears the Dress?
For a lesbian couple, both or neither can wear a dress. Unless it's very casual, most gay men will wear tuxedos or suits on their wedding day. Brides can also wear a suit or a full-length wedding gown, whatever they prefer. Usually, one will wear a suit, while the other wears a gown, but both can wear whatever they feel most comfortable in.
Who Walks Down the Aisle?
In some lesbian weddings, it is common for the more feminine partner to assume the traditional role of the bride. She is typically the one who will wear the gown and walk down the aisle, while her more masculine partner waits at the altar. But not always! One bride wanted to walk down the aisle with her father, while her partner waited at the altar. Her partner objected, saying, "I'm a bride and I want my father to walk me down the aisle, too!" So in this case, both brides walked down the aisle with their fathers. Some brides and grooms will walk down the aisle together, holding hands. Again, it's up to the couple.
The Vows
Some couples go with traditional vows… for better or for worse, for richer or for poorer, in sickness and in health, etc. But if you are like most couples today, you may want to take a more individualized approach. There is nothing more meaningful than writing your own marriage vows for your wedding day. As a wedding officiant, one difference that I have found is that the vows written by gay couples are often more heartfelt than with straight couples. Maybe it's because some of them have been waiting for so long to publicly proclaim their love that it just bursts out of them!
If you don't know where to begin, your first step should be to make an appointment for a consultation with your minister or officiant to discuss your ideas. They've done this many times before and can help you articulate and express the love you are feeling at this special time. Discuss the length of your vows. I had an experience where one partner read something short and to the point: "You are my soul mate, my friend, my confidant, dance partner and love of my life and I can't wait to spend the rest of my life with you." Only to be followed by the other partner reciting two full pages of dialogue. Ouch! So, my personal suggestion would be to share what you've written with your officiant just to make sure both of you are on the same page. A trusted officiant will never share your information with your significant other. And remember, it's a vow, not a monologue.
If you need inspiration, you can begin your vows with words to your favorite song, a tender poem or a meaningful quote. Talk about how your relationship inspires you… how she/he makes you feel, why you chose them, what keeps you interested and why you want to spend the rest of your life with them. What do you think of when you think of your partner? How magical does she/he make you feel? What are some of your dreams for your future together?
After you've finished writing your personalized vows, share them with someone you trust and ideally, someone who knows you both. It can't hurt to get a second opinion. And don't just think about saying your vows. Practice actually saying them out loud, just as you will on your wedding day. Also, even if you have an incredible memory, write down your vows and keep a copy in your sleeve or jacket pocket, just in case your nerves get the best of you and you go blank. Some of the best actors on the planet did just that while accepting their Oscars at the Academy Awards. You can do it, too.
The only thing that's left is to imagine yourself pledging your love while looking into your fiance's eyes… and don't forget to breathe!
About the author…
Rita Lamar is the CEO and owner of Lamar Wedding Center, where all unions are respected as loving and unique. Because we offer several services under one roof, including photography, video, flowers, centerpieces, djs, photo booth's, officiants, hair/makeup and invitations, we can streamline the process and offer the highest quality at the best price.
Rita has also served as an officiant at almost 60 weddings and performed 22 civil unions since becoming a certified officiant in 2010.  "We have been facilitating unions for 25 years and it is all the more rewarding now that our government is finally sanctioning marriage to the LGBT community."