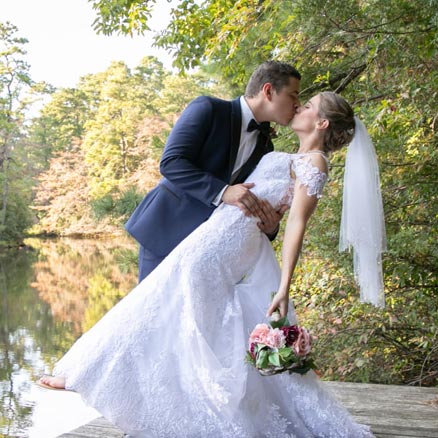 "From start to finish, Rita and her team could not have been better! My wife and I had to reschedule our wedding multiple times due to the pandemic, and during each date change, Rita was extremely understanding and accommodating. For our actual wedding, Rita was our officiant along with one of our photographers. All guests had such nice things to say about her after the ceremony since she made it so enjoyable. If I were you, I would not hesitate to use the Lamar Wedding Center for your wedding. They offer so many options at great prices, with great service. Thanks, Rita!"
"It was wonderful working with Lamar Wedding Center. Rita was available and quick to respond to any of the many emails I sent her. All of our services, photography, videography, photo booth and limo service were wonderful. Everyone called to confirm details and were very nice and patient throughout our special day. The photos, wedding video, and photo booth album all came out wonderful and we were very happy with the final products. I would recommend Rita and Lamar Wedding studios to anyone I know."
"Mark, my Videographer was amazing as well. He was so in sync with my Photographer. He talked us through shots, had us do the most relaxed moments, cutest, elegant little Shots, etc. Made us feel so at ease & comfortable."
"Lamar Wedding Center is the one-stop shop you must go to for your wedding photographer. We got the Emerald package, and were very pleased with our photography, they were so good we couldn't make up our minds on which photos would make the final cut of our wedding album. I'm a newly wed and I must say that the staff was so knowledgeable about planning weddings that I felt a sense of relief once we purchased our package and left the capable hands of their service center."
"My wedding was amazing thanks to Lamar Wedding Center and the team that came out that day took exceptional pictures. The communication between Rita and I was great which made me felt relax that someone was taking my best interest at heart. If I could do this all over again Lamar Wedding Center would be my first and only option. Thanks Rita"
"I'm glad I chose to work with the Lamar Wedding Center, Rita(officiant) is very professional and informative. The LWC works with your budget and makes sure everything you want/need for your big day is a reality. The vows, sand ceremony, family prayer, ceremony music(I had a live guitarist-Andrew) and jumping of the broom everything was PERFECT & Rita even had the crowd laughing a little which helped keep my tears at bay lol...... Thank you Rita and your staff at Lamar Wedding Center!!!"
"We had an amazing experience with Lamar Wedding center! Our video and photo booth attendant were both amazing! Super professional and helpful. Would highly recommend them to anyone looking for video or photo booth!"
"Choosing Lamar was one of the best wedding decisions I made. They took the stress out of wedding planning, are very fair with pricing, and are just really nice people to work with. All of their vendors that I used – from Glenny for hair and make up, Irene for photography, Jack for DJ services, and Andrew for videography – were professional and amazing at what they do. Rita and Dana were wonderful helping to coordinate everything. And Lodi Flowers provided the most beautiful arrangements. Huge thank you to Rita and the team at Lamar for helping to make my wedding a beautiful and memorable day!"
"We used their photography, photo booth and officiant services for our wedding. Rita was a fantastic wedding officiant! Her witty comments and attention to our guests kept me from balling my eyes out. Our photographer was on time, professional, and very attentive throughout our reception. The photo booth guys were fantastic to work with as well! We received numerous compliments from our guests about the services at our wedding and after! I was also very appreciative of Rita's office staff who were helpful and always a pleasure to speak to on the phone. Thank you very much for being part of our special day and making it less stressful!"
"I used Lamar Wedding Center for my photographer and DJ/MC at first; however added Videography at the very last minute (3 1/2 hours before the wedding!!). When I reached out to Andrew to ask for video, his response was "see you at the church!". I am so grateful to him and Rita for being so accommodating and professional. EVERYONE loved my DJ (James Cruz) and MC; especially me!! James kept making sure I was enjoying myself and had every song I requested. My photographer (Irene Wenkel) so great to work with; professional, courteous, and put everyone at ease as she snapped away! I can't wait to see the final pics! I would definitely recommend them to everyone!"
"I can't recommend Lamar enough! The value that you get here is incredible. I paid a fraction of the price that many of my friends paid for a wedding photographers but the results were even better. Our photographer captured every single moment that I asked for perfectly. She even threw in a surprise video that we didn't even ask for. Throughout the whole process, Dana was so responsive to our questions and the final album came out INCREDIBLE. So professional, sticking with my vision and much better than I had even imagined. If you are looking for a photographer to capture your day with no hassle (as we had from many other vendors) at an incredibly reasonable cost, look no further."
"Rita was our officiant in our very memorable wedding. She was not only our officiant, she also helped us with so much more to make our wedding a great success. We got married in a chartered boat that cruised around Manhattan and Rita helped us organize the entire venue. As our officiant, she was very professional, she also made the ceremony very personal for me and my husband. Overall she is the real deal! We would give her 10 stars if we could!"